Premises for medical and humanitarian aid
TEMPORARY HOSPITALS
Tests and inspection for suspected coronavirus cases and as well as quarantine accommodation of infected patients, have the highest priority in the current coronary crisis for local authorities. This promptly requires flexible, fast installed tents and halls, which ensure high hygienic standards.
Our quarantine tents, which can be divided in several rooms, help prevent new infections and propose doctors and nurses a safe basis for testing for suspected coronavirus sickness and medical aid for infected patients.
RODER structures based on framework from aluminum are ideal for fast installation of medical, office and utilities premises. The light framework allows installing structures without foundation due to use of anchor fastening or special loads. Structures are mobile buildings, which have fast installation technology without the use of labor intensive processes. The premises are equipped with all necessary equipment and if it is impossible to connect to external communication networks, they can be completely autonomous.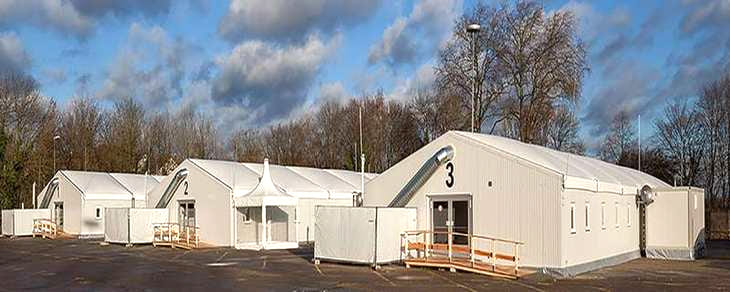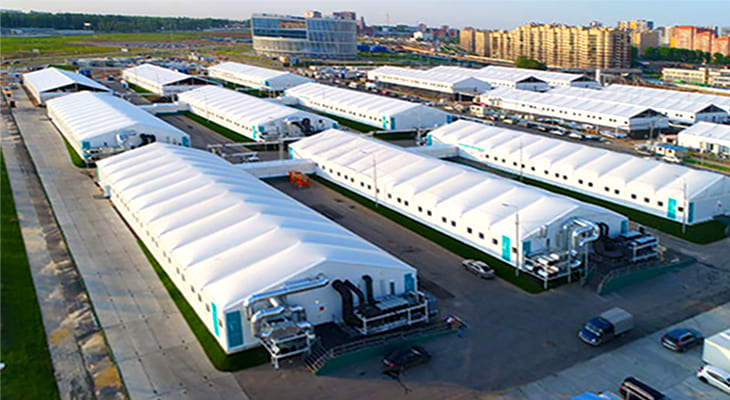 The use of warm buildings of H-LINE series with connecting of autonomous systems of conditioning, ventilation, energy supply, fire safety and the necessary medical equipment.


QUARANTUNE TENTS PROTECT AGAINST NEW INFECTIONS
Depending on local requirements, separate waiting areas and separate examination rooms can be created. The flexible structure of our systems also proposes covered stations for off-loading of inpatient health facilities and hospitals.
Our Corona tents for testing and inspection, fast establishment of quarantine zones or additional intensive therapy units are ready for use in a very short time.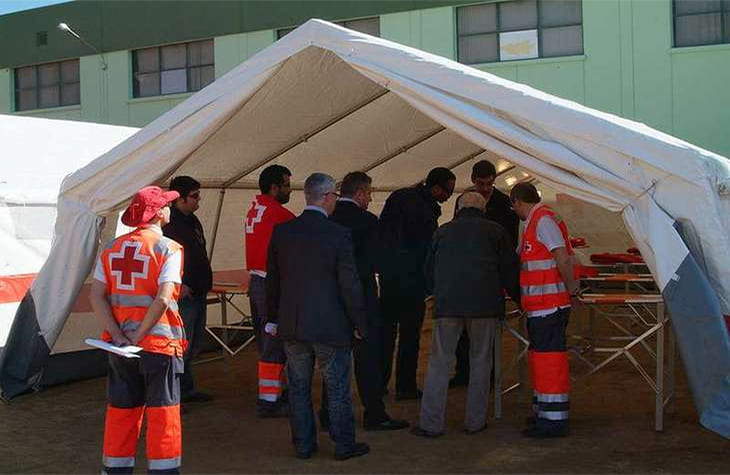 MODULAR MEDICAL FACILITIES
Ready to use container type medical units.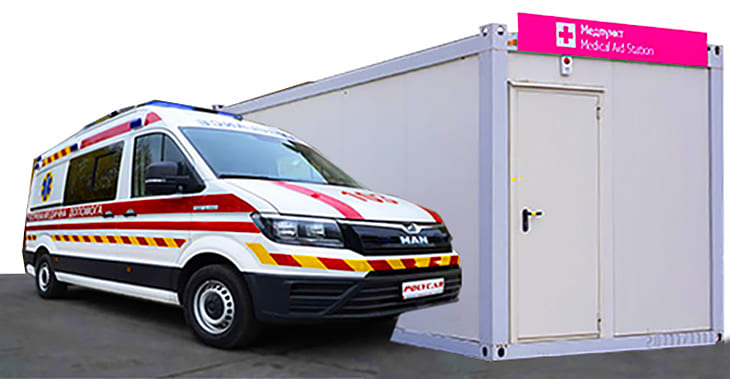 PREMISES WITH SPECIAL EQUIPMENT FOR EMERGENCIES
Our tent systems and light halls are equipped according to individuals needs and propose mobile, winter-resistant rooms with high level of comfort for emergencies, such as current Corona crisis. Our inspection tents and quarantine tents with insulated floors, roofs and walls and as well as air conditioning systems provide the safe accommodation of patients even at lower outdoor temperatures.

OVERVIEW OF ADVASNTAGES of our modular premises:
FAST RELEASE OF SPACE for unloading of stationary facilities.
FAST INSTALLATION is the time of installation of building from one week.
LIGHT STRUCTURE does not require the use of heavy machinery, welding, foundation works.
ENERGY EFFICIENCY – pneumatic warm roof reduces heat loss, which in combination with wall sandwich panels reduces heating costs to a minimum.
MOBILITY – structures are optimized for multiple assembly/disassembly. They are easy to move and modify.
LONG TERM OPERATION – the aluminum alloy of our structures is steady against corrosion and can be used more than 30 years. Tent cover – up to 9 years.
AUTONOMY – if it is impossible to connect to local networks, the building is equipped with electric generators, diesel blow heaters, autonomous water pumping and sewage stations.
BUILDINGS ARE EQUIPED with heating, ventilation and conditioning systems, fire alarm and the necessary specialized equipment. Internal partitions divide the space of the building into functional zones and premises.
We are happy to consult you regarding premises for emergencies. Please contact us!
You will find important data and dimensions for the standard structure of tents for medical and humanitarian aid.
download

Tents for medical and emergancy aid (0.5 MБ)
---